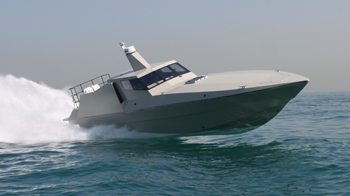 The harsh conditions of the Persian Gulf require ruggedly-designed vessels. That's why ADMShipyards of Abu Dhabi, UAE, turned to Marine Exhaust Systems to develop an efficient exhaust management system for a fleet of 50', high-speed interceptor boats for a Gulf state.
"Marine Exhaust has become a fully-integrated member of our team," said ADMShipyards composite manager Andrew Lea. "Their products are first class and constantly evolving to meet our clients' demands."
ADMShipyards is one of the prime components of Abu Dhabi MAR, which owns shipyards in Europe, including CMN in France and Nobiskrug in Germany, and is already becoming a world leader in megayacht construction and naval shipbuilding. ADMShipyards offers facilities capable of builds and retrofits up to 650'.
Established in 1973, Marine Exhaust Systems manufactures complete diesel exhaust system packages, from turbo to transom. It offers superior exhaust risers, elbows, fiberglass mufflers, custom fiberglass products, silicone hoses, clamps and other high-quality hardware.
Contact Marine Exhaust Systems,
3640 Fiscal Ct., Riviera Beach, FL 33404.
Phone: 561-848-1238
Fax: 561-848-1298
Email: info@marine-exhaust.com
Website: www.marine-exhaust.com